Although it seems hard at times after seven years in Munich to once again live back in my hometown and to shuttle back and forth between the two places, this has its advantages as well. Yesterday for example the annual Jazz-Frühlung started in Kempten. Initiated 20 years ago with just a few gigs this jazz-festival evolved to one of the most extensive ones in Germany, nine days of about 90 concerts and sessions on app. 32 stages. Within these years the organisation was able to get some real celebrities within the wider community of Jazz: Ray Anderson, Jazzkantine, Nils Landgren, McCoy Tyner, Carolyn Breuer, Maria Joao, Dee Dee Bridgewater, Dave Brubeck Quartet, Klaus Kreuzeder, Giora Feidman, Irakere, Sigi Schwab, Paul Kuhn … just to name a few.

Supported and completed is this event by young and often powerful and groovy local bands which seem to rock the house even more. ( … ;-) … remembering some really hot and funky belle-affaire-nights!) It's simply amazing how many great bands there are even in a region like the Allgäu.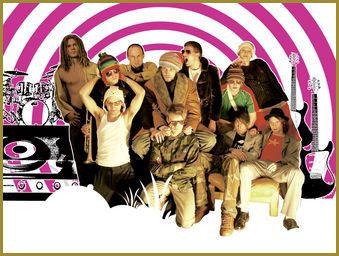 Last night was one of these nights. Unfortunately not a lot of people showed up due to little publicity, I guess, but the ones who were there had fun anyway and danced their asses off. Reason for this was Vokale Küche – a hiphop-funk-soul-jazz- indie-house-band from a town nearby … "Good music for good people". And indeed … oh my, their drummer and bass player do it funky. When these two start on their groovy dance-vibes accompanied by turntables, synthie and guitar, when some very cool raps by various mc's hit and once in a while a beautiful voice appears, flirting with the audience at all times … then the house really rocks! Complemented is the group by a small but precise horn section … hey, the trumpeter took his lessons from Belle Affaire for a little while ;-). To make a long story short … I just had in mind to go to a jazz session with some old friends … we turned out partying till four in the morning, enthusiasticly planning to return to the stage ourselves.

Vokale Küche should have a great future. I wish them the best of luck for sure. Check out their website for releases, tunes, gigs and pics.
A great start into the extended weekend (holiday on Monday!). After last night I will hit the bars and clubs once again … today's program: Latin Dance Night with Azucar Cubana. Time to remember some bygone days in Cuba …