And last but not least … No. 4: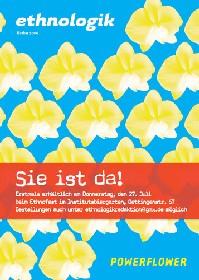 The newest debate is about the editorial of the new edition of Ethnologik, the student magazine of the Department of Ethnology and African Studies in Munich. The new crew, many thanks to them for publishing a wonderful new issue with enlightening and exciting articles (although I have to be critical about it soon), at the same time updating and designing their and the student representatives' new homepage, explains in a brilliant way why ethnology or cultural anthropology is not a luxury subject but a "Powerflower"!
Nevertheless the author of the editorial used the term "Ausländer" ("foreigner", in this case it might be better to translate with "alien", but actually it is more a debate concerning German linguistic sophistication) and already caused a debate on … well, I don't know … on linguistic terms. Just like the debate on "culture" just a decade ago. Once again, Zeph wrote a brilliant reponse to the matter. But please, read for yourselves … once again … "Powerflower" – die neue Ethnologik ist da! (unfortunately only in German).