After one month travel(l)ing Alberta and British Columbia, Canada, and a very few days of re-organization, I headed to Toronto right before starting the first part of my doctoral field research in Honduras. I simply had to take this opportunity to finally visit some old friends again, once met about nine years ago in a bluff called Port MacKenzie, Australia. Besides a wonderful time in general, long talks, updates, downtown Toronto sidetrips, a delicious Thanksgiving dinner, the experience of goat-cheese pasta ;-), and a spendid autumn weather, I finally got a chance to go to the, believe it or not, Oktoberfest!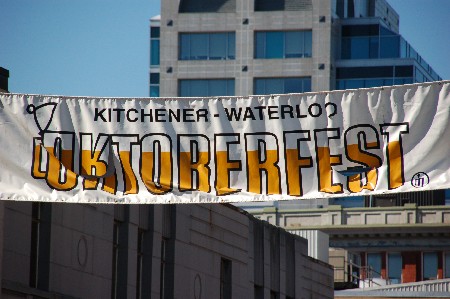 I hadn't had a chance to go in Munich. But what the heck if there's Oktoberfest throughout the world, right? So 2006 I went to the "Wies'n" Canadian style. Kitchener-Waterloo Oktoberfest is "Canada's Great Bavarian Festival"!

"In Kitchener we are equally proud of our Germanic heritage as we are of the diverse multicultural community into which we have grown." states Kitchener's Mayor Carl Zehr in the official Fest Guide. "Experience first hand the spirit of 'Gemuetlichkeit'." says Herb Epp, Mayor of Waterloo.

Without misjudging honestly Kitchener's and Waterloo's effort and respect, my friends Son and Kev had visited the original Oktoberfest with me a few years ago, and … this time was somehow different!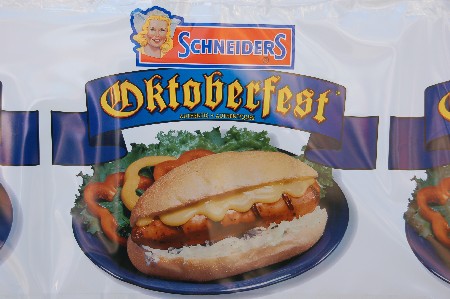 I still can see Kev's sparkle joining the atmosphere in Munich's beer tents back then, in Kitchener we all felt kind of odd. But interesting enough, the Oktoberfest in Kitchener seems to be a big thing … otherwise they wouldn't have celebrated for the 38th time last year.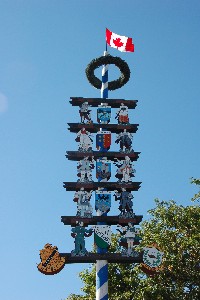 A lot of Canadians with German roots have settled in this area, there are various organisations and communities like the Alpine Club, the Concordia Club, the Hubertushaus, and the Schwaben Club involved. Oktoberfest for sure is somehow different and adapted to North-American lifestyle. Here the festival is spread over the whole city, there are events like the Oktoberfest Grand Prix, an outdoor go kart race, a Chess Open, a Water Polo Tournament, a Barrel Race, and Toy and Collectibles Shows just to name a few. The Council's Grillefest, the Bogen- schuetzenfest, and a small parade along King Street might be the most "traditional" elements. Funny enough, in the Hans Haus, the Official Oktoberfest Headquarters in Downtown Kitchener, you can "get your Tracht on"! Souvenirs, Lederhosen, Pewter and Ceramic Stein mugs, Trachten shirts and hats make the greatest deal.
SchneiderS, Onkel Hans Food Drive, and Piller's, but also Molson Canadian and Brick provide the guests with "authentic" sausages and beer in almost the only Bavarian style beer tent accompanied by German and Hungarian polka bands. "The best of Oktoberfest – A truely AUTHENTIC experience" the Transylvania Club promotes. Except for the fact, that the tent only held about two hundred people instead of 2.000 and that there wasn't actually a lot of Oktoberfest life and spirit in the party.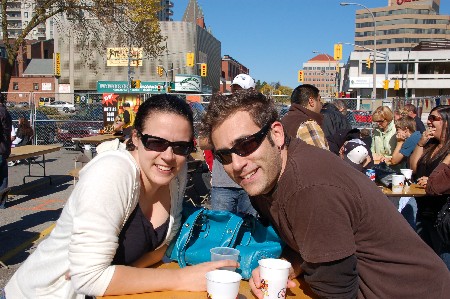 Thanks to my dear friends Son and Kev we had a blast anyway within this rather odd event about one hour outside of Toronto. Quiet an experience but quite an attraction … I came up with several ethnological questions right away.


The last picture within this entry is actually not taken at Kitchener-Waterloo Oktoberfest but in downtown Toronto. Makes me wonder again and again why Bavaria is that famous everywhere throughout the world for it's Bratwurst?