For several years now I have been one of the greatest fans of cycling sports, especially the Tour de France, one of the greatest sporting events every year, at least from my point of view. I remember sitting in my apartment in Munich during a hot July taking a sip of a good ice-cold beer in yet the afternoon watching about 100 athletes crawling up the mountains in the Alps and the Pyrénées. "Quäl Dich, Du Sau!" I used to cheer Jan Ullrich, Ivan Basso, Joseba Beloki, and many others, the only question in mind, if someone finally would beat every-years winner Lance Armstrong. What a blast!
Not surprising that I was very much looking forward to do so again this year. Not surprising that I had all my spirits focused on tomorrow, the 1st of July, the prologue of this year's Tour. But … about two hours ago my news ticker had the following notice: "Jan Ullrich suspended from the Tour de France!". What had happened?
Within the last days the Spanish newspaper El Pais had published a list of 58 athletes being accused of blood-doping. Upon profound research and a razzia at a laboratory in Madrid, blood conserves were found, tacked with names of certain cyclists, among them Jan Ullrich. Two hours ago all the affected team managers decided to suspend their suspicious riders contrary to their protestations of innocence during these last days prior to the start.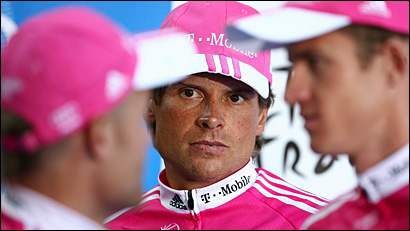 Among the suspended athletes there are almost all favourites e.g. Jan Ullrich, Ivan Basso, Joseba Beloki, Oscar Sevilla, and Francisco Mancebo. Other teams had reacted earlier and taken out some of their candidates for the Tour such as José Enrique Gutierrez and Santiago Botero.
This is just a short entry on the issue. Everyone can imagine that I am pretty p….. off by this notice. We all knew that Lance Armstrong was doped all the time, and maybe we all knew that it might only possible to finish the Tour de France by doing a little extra help on the physical fitness, but I tried to believe that some athletes had at least some sort of ethic and moral values. Now, what can I say, it doesn't matter if they are actually found guilty or if they are innocent like most of them still solemnly vow. One is for sure: this year's Tour de France is already a Tour de Farce. Seems like I have no other choice but to do the Tour myself: one word … Radsportmanager ;-) … if you know what I mean! (… personal gaming histories at Zeph's place!)